O Inside Awards 2014, considerado uma das premiações em design de interiores mais conhecidas do mundo, acaba de anunciar os finalistas. Os vencedores serão anunciados no World Architecture Festival, em Singapura, de 1 a 3 de outubro, no resort super luxuoso, Marine Bay Sands, como parte do Inside World Festival of Interiors. Os 60 projetos de design de interiores finalistas vieram de 21 países e estão distribuídos entre nove diferentes categorias, uma delas chamada "Office". Para você conhecer um pouco melhor da premiação desse ano, conheça os projetos corporativos finalistas do Inside Awards 2014, com destaque para alguns projetos:
Arkwright
Projeto de arquitetura de Haptic Architects, de Londres, Reino Unido
Local: Oslo, Suécia
Descrição: o destaque desse projeto de design de interiores fica por conta da escada feita com camadas de madeira. É uma referência às formações rochosas comumente encontradas na costa norueguesa. Segundo os arquitetos, "o design é inspirado no svabergs – grandes formações de granito típicas nessa área – arredondadas e polidas por icebergs há milhares de anos".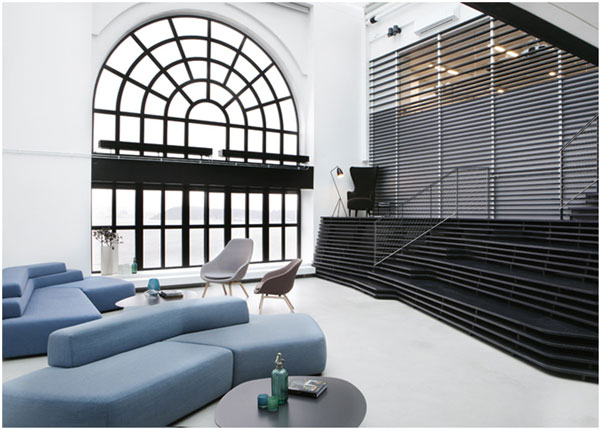 Flamingo Office
Projeto de arquitetura de Neri&Hu Design and Research Office, de Shanghai, China
Local: Shanghai, China
Descrição: o design de interiores desse escritório é formado por volumes de madeira inseridos no sótão da cobertura de um edifício industrial, que criam um contraste com o restante da estrutura feita em concreto bruto.
Factory Office Renovation
Projeto de arquitetura de Vo Trong Nghia Architects, do Vietnam
Local: Ho Chi Minh, Vietnam
Descrição: a reforma dessa fábrica de vestuário foi o segundo projeto arquitetônico do estúdio vietnamita. O ponto alto do design é o teto de bambu suspenso que se estende de cima abaixo ocultando dutos de ventilação, instalações elétricas e fiação. "O objetivo do projeto é redefinir a identidade da empresa através da renovação a fim de que ela se sobressaia perante seus concorrentes", disseram os arquitetos envolvidos.
Veja os outros finalistas da categoria "Office":
Projeto de arquitetura de Spaces Architects @ka, da Índia
Projeto de arquitetura de Hyunjoon Yoo Architects, da Coreia do Sul
DonorsChoose.org Headquarters
Projeto de arquitetura de Eight Inc., de EUA
Projeto de arquitetura de BVN Donovan Hill in association with Jasmax, da Nova Zelândia
Projeto de arquitetura de Clive Wilkinson Architects, de EUA
Projeto de arquitetura de HASSELL, da Austrália
Architect's office at Kim Yam Road
Projeto de arquitetura de Park + Associates Pte Ltd, da Singapura
National Australia Bank, 700 Bourke St, Melbourne
Projeto de arquitetura de Woods Bagot, da Austrália
Projeto de arquitetura de Erginoğlu&Çalışlar Architecture, da Turquia
Confira alguns projetos de arquitetura corporativa do escritório de arquitetura Casa 3.
Deixe seu Comentário
comentários