É comum as pessoas não se darem conta de como o espaço interfere no comportamento ou no bem-estar de quem o habita. Um projeto para a área de saúde não poderia ser diferente! Conheça hospitais que apostam na arquitetura e no design para ajudar a curar seus pacientes.
1. The Christ Hospital Joint and Spine Center, em Cincinnati: o escritório de arquitetura SOM foi responsável por todo o projeto que prioriza a luz natural e contato com a natureza. O projeto é repleto de espaços flexíveis que oferecem lugares de descanso para pacientes, enfermeiros e familiares dos internos.
Fonte: Archdaily | Tom Rossiter.
Os quartos dos pacientes possuem janelas do chão ao teto e são organizados e decorados para proporcionar um ambiente relaxante aos pacientes e suas famílias. Além disso, as áreas para enfermeiros foram descentralizadas e colocadas mais próximas aos pacientes, mantendo assim as equipes em um contato maior com os internos e suas necessidades.
2. Hospital Infantil de Seattle, Clínica do Sul, em Seattle: no projeto do escritório de arquitetura ZGF Architects LLP, os serviços ambulatoriais foram colocados mais próximos dos pacientes para oferecer cuidados mais intensivos. A clínica foi projetada com foco no fluxo de pacientes para que os médicos possam atendê-los de forma rápida e eficiente.
Fonte: Archdaily | Aaron Leitz.
Localizado no subúrbio de Seattle, esse hospital infantil fica dentro de um shopping center e abriga setores de urgência e emergência, terapia ocupacional e física e até oferece serviços especializados. O espaço é bem iluminado e ainda conta com um telhado verde que funciona como jardim e várias salas de recreação que ajudam na integração de pacientes, familiares e equipe médica.
3. Centro Médico da Universidade de Nova Orleans: projetado pelos arquitetos do escritório NBBJ, esse centro médico fornece a Nova Orleans uma sofisticada instalação de 1,5 milhões de metros quadrados construída para suportar desastres naturais e continuar funcionando por até uma semana. Os recursos incluem internação, cuidados com o câncer, saúde comportamental e até um centro de trauma.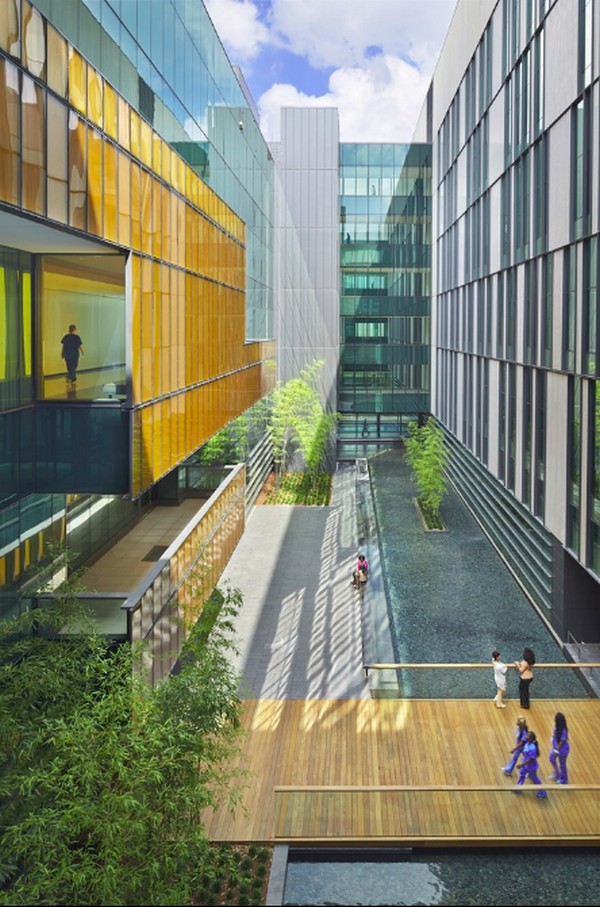 Fonte: Archdaily | Benjamin Benschneider.
O projeto promove a cura holística, priorizando pátios e jardins. Nos espaços comuns, janelas do chão ao teto criam belas vistas, enquanto obras de artes personalizadas celebram a rica herança de Nova Orleans. Portas duplas deslizantes permitem uma rápida atuação dos profissionais de saúde nas zonas de tratamento. Além disso, todos os quartos possuem uma ótima iluminação natural.
4. Centro de Câncer da Universidade do Arizona: localizado no Dignity Health St. Joseph's Hospital and Medical Center, a construção sustentável voltada para tratamento de pessoas com câncer foi projetada pelo escritório ZGF Architects LLP. O Centro de Câncer fornece o mais alto padrão de atendimento através de um modelo multidisciplinar que utiliza as tecnologias mais modernas.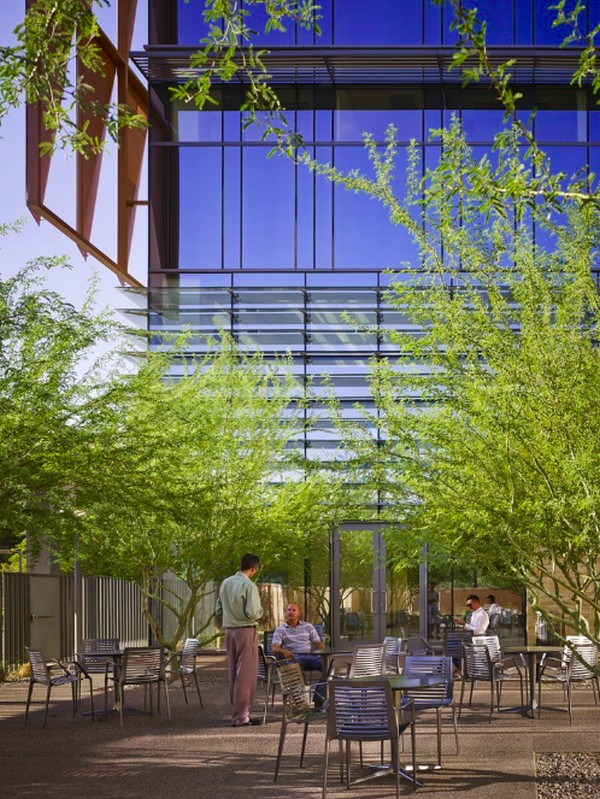 Fonte: Archdaily | Nick Merrick / Hedrich Blessing Photographers.
O projeto inclui não só salas tradicionais para diagnósticos e tratamentos de câncer, como também centro de apoio e bem-estar, farmácia clínica e um jardim de cura. O edifício foi projetado para enfatizar a experiência do usuário, integrar a beleza natural da paisagem e atender as necessidades de equipes e pacientes.
5. Centro de Oncologia Kraemer, na California: o projeto do Yazdani Studio of CannonDesign impressiona por não colocar os equipamentos e pacientes que precisão de tratamentos a base de radiação no subsolo. Essa prática é comum devido ao peso dos equipamentos e para manter a radiação o mais isolada possível.
Fonte: Archdaily | Bruce Damonte.
Porém, no projeto deste centro de oncologia, outras soluções foram dadas para o problema da radiação e os pacientes podem desfrutar de muita luz natural e ar puro. Há também muitos jardins que buscam inspirar os pacientes. À noite, o edifício de fachadas de vidro fica todo iluminado, simbolizando um farol de esperança para as pessoas que estão em tratamento.
Deixe seu Comentário
comentários